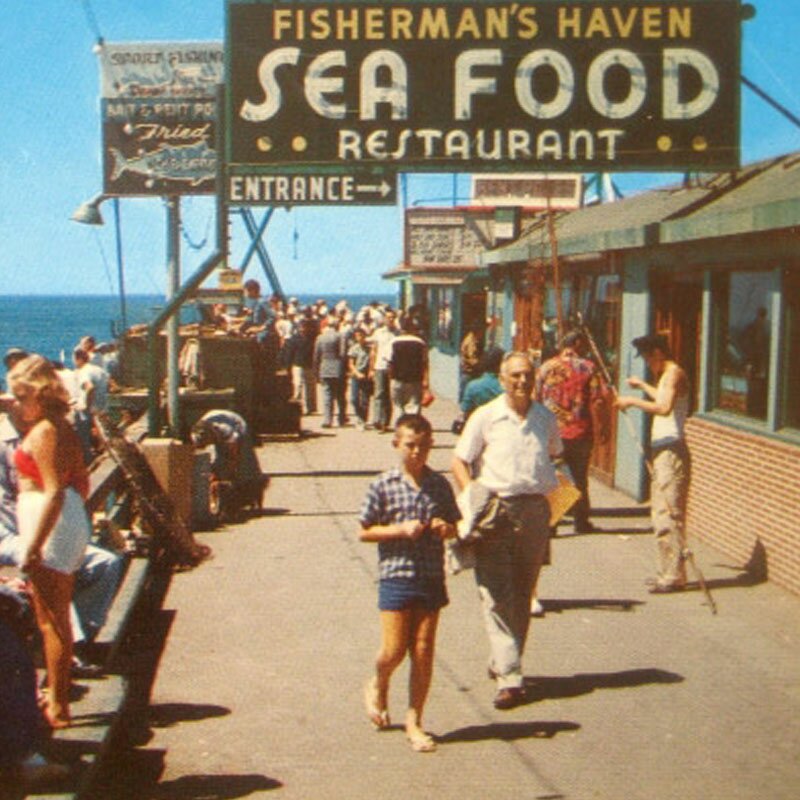 Dear Neighbor,
Thank you for taking the time to learn more about our proposed Redondo Waterfront revitalization project. Our goal is to create Redondo's new living room, bringing world-class recreation together with the comfort of community.
It's important for me to take a moment and tell you a more personal story about why I took this project on, and why it means so much to me. When I was a young boy, some of the best times I spent with my family were fishing and having fun at the Redondo Pier. I loved it there. It was a warm, vibrant place I anticipated revisiting as soon as I'd return home. I remember reading all about the waterfront's history dating back to the mid-1800s, when it became one of the most lively, exciting areas on the West Coast.
Later in life, I learned that the pier had even more significance to my family when my mother-in-law told me the story about how her husband had proposed to her there. The Redondo Pier is very special to me.
But when I visit it now, the vibrancy I remember as a child continues to fade away. So when my team and I saw the opportunity to be part of a revitalization that would bring the timeless Redondo experience I loved to life once again, and give it back to future generations of this community, we had to get involved.
We began with the rigorous set of zoning standards recently put in place by Measure G as our guide, and commenced with envisioning the revitalization. We spoke with hundreds of community members, and listened to their thoughts, personal stories and memories of the waterfront. What you see is the vision we've created together. Our conversation with all of you will continue as we constantly revise our plan to enhance the community experience.
We look forward to ongoing conversations and feedback as we work with you to revitalize our waterfront.
Sincerely,

Fred Bruning
CEO CenterCal Properties
THE REDONDO LEGACY
The Waterfront's legendary local businesses are the centerpiece of Redondo's rich cultural heritage. Who doesn't have fond memories of sharing a meal with family at Tony's On The Pier, grabbing a beer with a friend at Naja's Place, or savoring the catch of the day at Quality Seafood?
As long-time members of this community, we know that legacy businesses like these are part of the Redondo Beach culture which is why we are currently in conversation with them.
We've designed The Waterfront to celebrate the legacies they've created here – while adding enterprising local newcomers, as the centerpieces of its revitalization.

HOW WE GOT HERE
With the passage of Measure G in 2010, the voters of Redondo Beach approved a set of strict standards for development along the coastline, including development density limits, building height restrictions, and a cap of 400,000 net new square feet of development. The Waterfront is well within those limits.

THE PROCESS
Since 2012 we've worked closely with the local community to understand what they want their waterfront to become.

From home visits by senior leadership to broad community listening forums, we've ensured that Redondo's residents have a voice every step of the way.

THE VOICES OF REDONDO RESIDENTS

THE RIGHT BALANCE OF USES

Waterfront Qualities
An exploration of worldwide waterfronts and how The Waterfront project compares to the Best Practices as recommended by Projects for Public Spaces.
A Project Driven by Place-Making
Aligning with Projects for Public Spaces and the 10 Qualities of a Great Waterfront Destination, CenterCal proposes a plan that is guided by Place Making, built for this community and significantly less dense than many waterfronts throughout the world.
10 Qualities of a Great Waterfront Destination
Surrounding Buildings Enhance Open Space - Buildings along the waterfront should boost activity with seamless interaction between indoors and outdoors.

Lagoon area buildings with recreational rentals
Bicycle valet offering repair services
Spacious boardwalk for pedestrians and cyclists
Restaurants with open-air patios and balconies
Boutique Hotel: each room has a balcony and oceanview
Specialty Theatre: balcony dining and cocktail lounge

Limits are Placed on Residential Development -- Great waterfronts are not dominated by residential development, but are places that are filled with people, morning, noon and evening.

In accordance with Measure G, the project is designed to:

Exclude residential development
Promote public use of the space
Maximize access to the ocean for all
Programming to include: festivals, concerts, Yoga on the Beach, cooking lessons, art exhibits and more.

Activities Go on Throughout the Day and Year-Round -- Waterfronts that thrive throughout the year will reap substantial community and economic benefits.

Lagoon open year-round offering: stand-up paddling, kayaking, snorkeling, yoga and concerts on the beach
Creative Office space activates daytime uses
Boutique Hotel appeals to local and international visitors
Boutique Hotel targeted to local and international visitors
Parkette with water feature and Horseshoe Pier provide space for ongoing music and art exhibitions
Expanded boardwalk to accommodate strollers and cyclists along the ocean's edge

Flexible Design Offers Adaptability -- Successful waterfronts must adapt to many changes that bring different users at different times.

11acres of gathering spaces adaptable for a variety of uses such as:

Morning yoga or tai-chi at the beach
Easy access and connectivity for cyclists and strollers along the boardwalk, Pacific Avenue and the pedestrian bridge
Open space for art exhibits, musical and street entertainment and public movies viewings
Traditional uses: Lobster Festival, 4th of July, 10K Race

Event space inside the Public Market opens up to the ocean for public and private uses
Surface Parking adjacent to Public Market for quick in-and-out shopping
Creative Office Space to drive activity during the daytime

Creative Amenities Boost Everyone's Enjoyment -- The best waterfronts feature amenities that increase people's comfort and enjoyment.

PublicArt throughout
Comfortable seating in the parquets and along the boardwalk
Artistically lit water feature mimicking the ocean's waves
Beautiful, thoughtfully designed landscaping
Dinghy dock
Bicycle Valet and repair service area
Office Concierge service providing delivery and additional conveniences

Access Made Easy by Boat, Bike and Foot -- Waterfronts flourish when they can be accessed by means other than private vehicles.

20-foot boardwalk along the oceanfront for strollers and cyclists
Dinghy dock for boaters
Moorings and water taxi for boaters and guests
High-Speed bicycle track
Pedestrian bridge connecting the North and South side of The Waterfront
Reconnection of Pacific Avenue between Harbor Drive and Torrance Boulevard

Local Identity is Showcased -- Making the most of local identity, history and culture stimulates widespread interest in the waterfront and creates a unique sense of place.

Architectural relevance that captures the history of the beach cities
Legacy and local tenants included to convey the characteristics of the area
Local musicians and artists regularly highlighted
Marine research and education featured though local schools
Public art reflective of the ocean and her unique features
Continuation of successful historic events such as: Kite Festival, Chalk Festival, Summer Concerts, 10K Race, Lobster Festival, etc…

The Water Itself Draws Attention -- The water itself is the greatest asset of any waterfront, and should become the centerpiece for programming and activities.

Stand Up Paddling
Peddle Boating
Snorkeling
Daily Fishing Vessels
Whale Watching
Sport Fishing
Ocean &Marine Life Study
Gondola Rides

Iconic Buildings Serve a Variety of Functions -- Iconic, attention-grabbing buildings that reflect a human scale and do not detract from the surrounding context can be a boon to the waterfront, so long as they serve a variety of functions.

Horseshoe Pier
Historical buildings reflecting Redondo's industrial era
Refurbished Tony's Crow's Nest

Good Management Maintains Community Vision -- Management is essential to ensure that a successful waterfront stays that way.

Senior management has years of experience transforming and creating place making destinations for communities
Local expertise in maintaining marina space and knowledge of the community
The on-site management team will be the highest caliber associates with a track record for excellence

For more information on Waterfronts as Open Spaces visit http://www.pps.org/waterfronts/